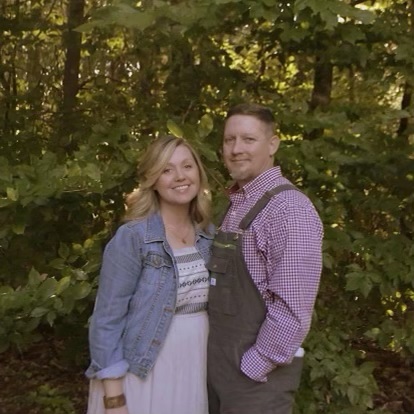 Pastor Shannon on the right next to his wife Hannah on the left.
Pastor: R. Shannon Chasteen
I got wonderfully and gloriously saved Sunday morning, April 3, 2011 at the age of 33. It was my family's first visit to Lighthouse Baptist church, in Abbeville, SC. That following Wednesday I had to be at work at 6:00pm and church at 7:00pm, and the two were not in the same place. It bothered me greatly that I had to miss church. I got dressed early and drove to the church to pray and I found the doors unlocked. I let myself in, and laid at the altar and prayed. I apologized to the Lord for having to miss church, and asked Him to make a way for me to be in church every time the doors are open. I told Him I would do whatever He told me to do, so long I knew it was Him and that it kept me close to Him. Within a year's time, the Lord totally rearranged my life. He took me out the job I had, put His call to preach on me, I was enrolled in Bible College and my family's life was centered around Christ and our local church. 5 years later He moved us to Newport Washington, and birthed this church. The Lord answered that prayer from that Wednesday night in such a way as I could have never imagined. I love the Lord; I love my family and I love church and I get to spend every day of my life in the midst of these things I love the most.

Hannah and I were both born and raised in Upstate South Carolina. As soon as I met her, I knew I was going to marry her; we have been married 21 years this past February. We have two sons, Brent (20) and Ty (16). We love the life we have been given in the confines of His will.
About Blessed Hope Baptist Church
We are an Independent Baptist Church, that began in January of 2017. We love the Lord, and we hold His Word, His will and His presence in the highest regard. We love people, and recognize the value God has put on life. From the very beginning the Lord has blessed us and grown us and we are thankful and excited to be a part of what God is doing in the Inland Northwest.